ImBatch 6.2.0 Multilingual Portable
---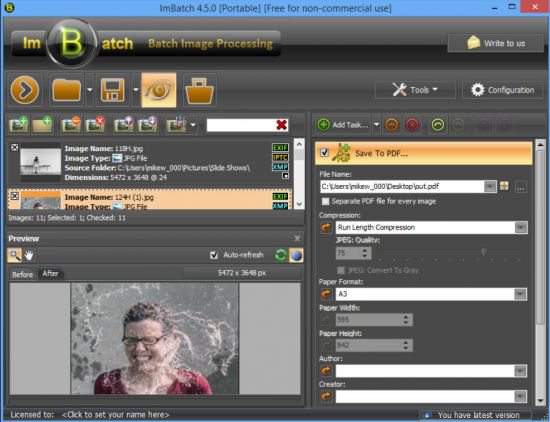 ImBatch 6.2.0 Multilingual Portable | File Size: 33 MB

ImBatch is an excellent multi-function image editor that allows you to process a large number of files in batches. With this application for the selected pictures you can adjust the color gamut, crop them, add watermarks, resize, use various effects and filters (rotation, blur, rounding, etc.), work with tags, convert to other formats.



In addition, if you want, you can use the function of publishing edited images in the social network Facebook on your account. The list of available file formats is quite diverse, namely: TIF, TIFF, FAX, G3N, G3F, XIF, GIF, JPG, JPEG, JPE, JIF, PCX, BMP, DIB, RLE, ICO, CUR, PNG, DCM, DIC, DICOM, WMF, EMF, TGA, TARGA, VDA, ICB, VST, PIX, PXM, PPM, PGM, PBM, WBMP, JP2, J2K, JPC, J2C, PS, EPS, PDF, DCX, CRW, CR2, NEF, RAW, PEF, RAF, X3F, BAY, ORF, SRF, MRW, DCR, SR2, PSD, IEV, ALL, WDP, HDP. In general, ImBatch is a handy tool that will be especially useful for those who are editing large amounts of graphic files, while the utility is able to satisfy the most demanding users.

Main features of the program:

Batch processing of images.
Convert files to various graphic formats.
Resize images.
Use of shadows, curvatures and other effects to improve visual display.
Crop images to a given size.
Correction of color characteristics.
Editing EXIF ​​tags.
Possibility of using watermarks.
Whats New:
'Resize' task: Added the Size parameter to specify the scaling method with preserving proportions.
'Resize' task: Added the ability to save presets for sizes.
'Resize' task: Added the ability to enter expressions for the Width, Height and DPI parameters.
'Resize Canvas' task: Added expressions support for the Width, Height, Left Position, Right Position, Upper Position, Lower Position parameters.
'Resize canvas' task: Added saving to the list of entered values for the Width and Height fields.
All date/time tags: added submenus for templates for individual date elements.
Added template for the tag ([!TEMPLATE!:startN], [!TEMPLATE!:endN], where N is the number of folders in the path from the beginning and end of the path, respectively (negative values are also allowed)), with which you can copy part of the path.
'Copy', 'Rename/Move', 'Save As', 'Save In CMYK As', 'Optimize For Web' tasks: Now you can also use the same tags for the path as for the file name.
'Watermark Text' task: fixed text color, fixed setting background color (if the text exceeds the image boundaries).
ContextMenuEditor: Fixed loading translation file.
ImageMonitor: Fixed loading translation file.




Attention!
Dear visitor, you have visited the site as an unregistered user..
We recommend you
register
or enter the site under your name.